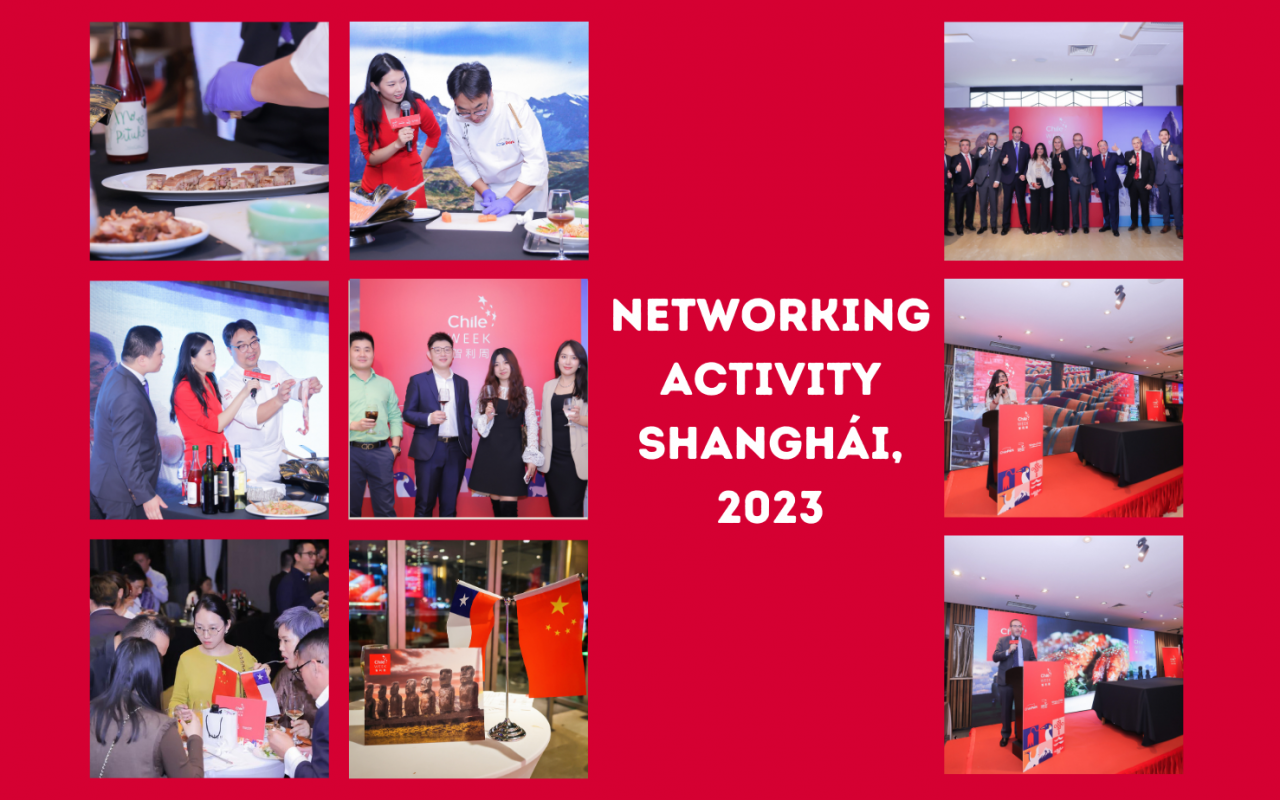 ChilePork held successful networking event with Shanghai importers during Chile Week China 2023
November 7, 2023
On October 19, the sector brands ChilePork, Wines of Chile, and SalmonChile held a networking event in Shanghai to strengthen ties with Chinese companies. Ninety-eight attendees, including pork importers and local media, had the opportunity to enjoy delicious cuts of Chilean pork during the final stage of Chile Week China 2023. Notably, Chile became the […]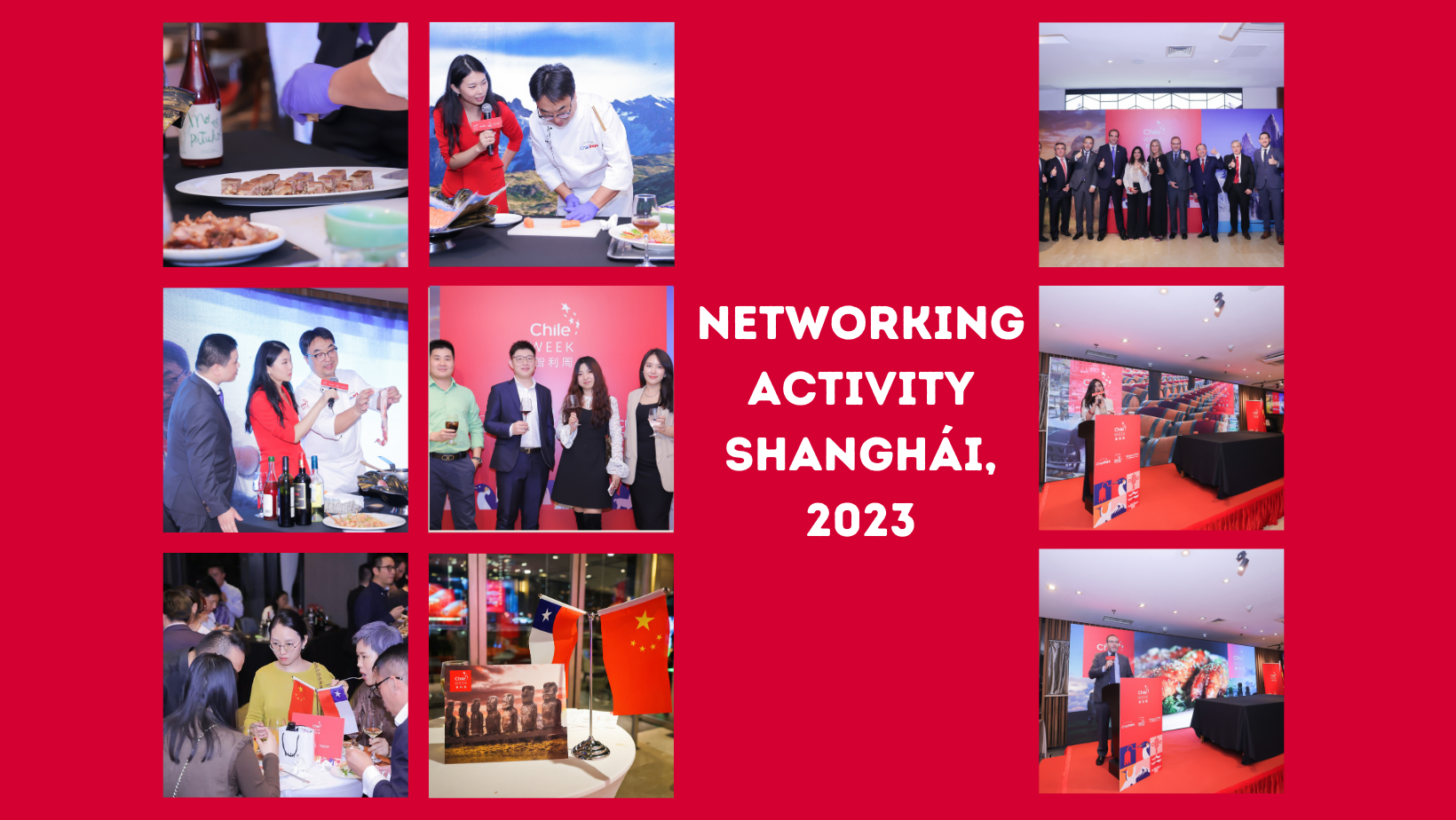 On October 19, the sector brands ChilePork, Wines of Chile, and SalmonChile held a networking event in Shanghai to strengthen ties with Chinese companies. Ninety-eight attendees, including pork importers and local media, had the opportunity to enjoy delicious cuts of Chilean pork during the final stage of Chile Week China 2023. Notably, Chile became the Asian giant's sixth largest pork supplier this year.
The networking event took place at the Riviera restaurant and was attended by various Chilean representatives: Marcelo Hurtado, Chilean Ambassador to China; Claudia Sanhueza, Undersecretary for International Economic Affairs; Gonzalo Figueroa, Chilean Consul General in Shanghai; Ignacio Fernández, General Director of ProChile, Juan Carlos Domínguez, President of ChileCarne; Angélica Valenzuela, Business Director of Wines of Chile; and Rodrigo Bustos from SalmonChile. The event began with words of welcome from Ambassador Hurtado and Undersecretary Sanhueza, who inaugurated the interesting and fruitful exchange.
Both Chilean officials thanked participants for their interest in Chilean products. Juan Carlos Domínguez, President of ChileCarne, the association that brings together the main white meat exporting companies in Chile and promotes the ChilePork brand, stated that the meeting reaffirms ChilePork's commitment to the Chinese market, vowing to have more activities in 2024 to strengthen these ties further. "Chile has continued to export high-quality products with high nutritional value, following a strategy based on producing under the highest standards of food safety, biosecurity, and sustainability, which positions our country as the sixth largest pork exporter worldwide, and ninth to China. These activities are a clear example of the long-lasting commitment and trust built between Chile and China in terms of trade. It also goes to show the growing interest of Chinese importers in Chilean pork, which represents a great opportunity for our pork exporting companies."
Later, chef Gu and sommelier Stone Geng took the stage to walk attendees through the making of dishes with Chilean pork and salmon as the stars, and their pairing with wines from Chile. The recipes made by chef Gu were: tenderloin cubes in balsamic vinegar, braised knuckle jelly with soy sauce, crispy ribs with pepper and hot spices, and shunde-style salmon.
After the cooking show, attendees were able to taste these and other dishes at a buffet that also gave them the opportunity to do some networking and taste Chilean wines from the eight vineyards that were showcasing their quality products. Attendees were pleasantly surprised by the wide culinary offering of Chilean products and their quality, showing interest in continuing to learn more about them and incorporating them into their culinary traditions.
It should be noted that Chile and China have had diplomatic relations for 53 years and 2023 marks the 17th anniversary of the bilateral trade agreement. Chile was the first country in South America to establish diplomatic relations with China and the first Latin American country to sign and update a Free Trade Agreement. In 2022, China led Chile's exports with 38.9 billion USD, a 13% increase from 2021 which also represents 39% of the country's total exports during that period.
For Chilean pork, China is the primary destination market in both value and volume. In 2022, Chile exported over 309,000 tons cwe of pork, which represents 54% of the country's total pork exports, and 644 million USD, 42% of the value exported.
Learn more about the networking activity by checking out the event photo gallery:  https://flic.kr/s/aHBqjB1Frb