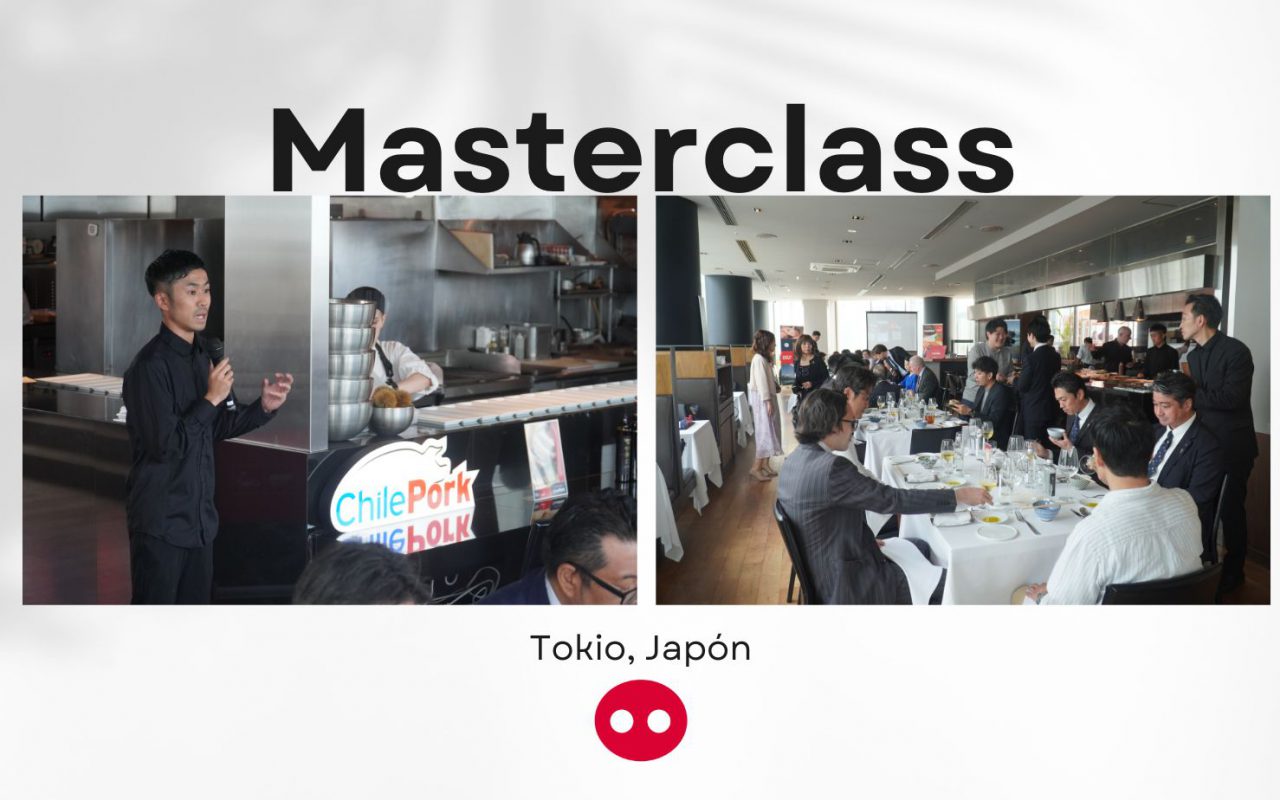 Chilean flavor in Tokyo: ChilePork's master class highlights excellence of Chilean pork
November 7, 2023
The event focused on representatives from the foodservice sector, renowned Japanese chefs, restaurant owners, and influencers, bringing together 34 guests in total. 22 from foodservice, three from media outlets, and the rest from Japanese production companies. The famous Two Rooms Grill and Bar restaurant, in the Aoyama neighborhood in the heart of Tokyo, was the […]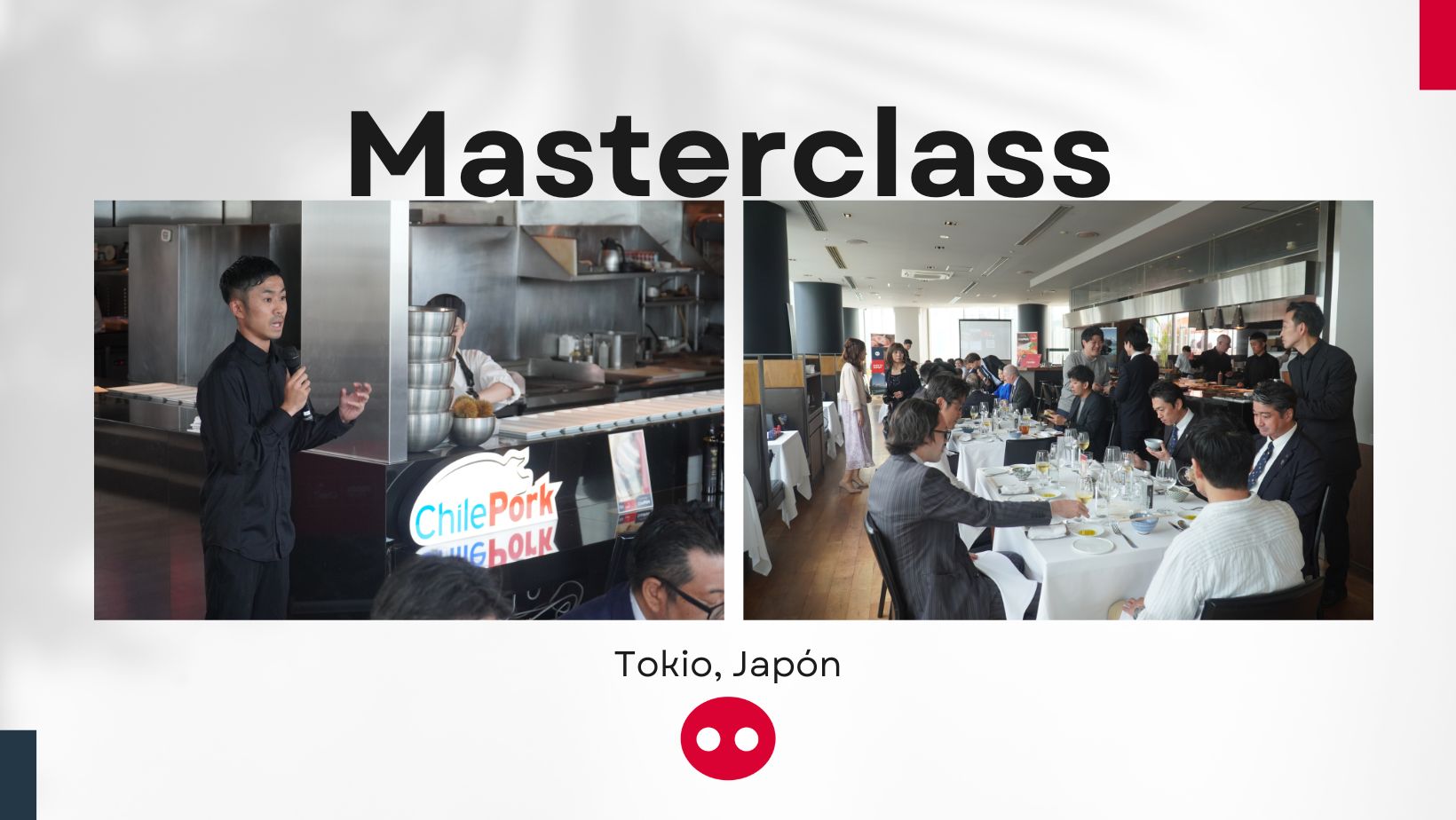 The event focused on representatives from the foodservice sector, renowned Japanese chefs, restaurant owners, and influencers, bringing together 34 guests in total. 22 from foodservice, three from media outlets, and the rest from Japanese production companies.
The famous Two Rooms Grill and Bar restaurant, in the Aoyama neighborhood in the heart of Tokyo, was the setting of ChilePork's 2023 master class. The Chilean embassy in Japan played a leading role at the event, represented by Ambassador Ricardo Rojas and ProChile's Commercial and Agricultural Attaché in Tokyo, Nury Disegni.
Ambassador Rojas welcomed the guests and highlighted relevant issues for both countries. He talked about Chile's recent ratification of the CPTPP and the many benefits it represents. During his remarks, he said: "Chile is the seventh largest pork exporting country and Japan's sixth largest pork supplier. Our meat is produced under a unique from-farm-to-table model, which guarantees 100% traceability thanks to strict controls. We also comply with international and domestic standards to promote circular economy and water efficiency, which work towards a more sustainable production."
Then, a video explained ChilePork's production system, showing how pigs are reared on an enriching environment that encourages natural and stress-free behavior and the cutting-edge technology used at the meat processing facilities.
One of the most anticipated moments was lunch, prepared by Two Rooms' executive chef, Takayuki Ogawa. He offered delicious recipes made with Chilean pork and explained the specific features and virtues of each cut.
The first dish was "ChilePork belly shabu-shabu," a pork fondue with raw ham broth and a touch of freshly chopped ginger to enhance the flavor of the pork cooked at low temperature. The second dish was "breaded ChilePork loin," a pork chop breaded after being cooked at 58 °C, resulting in an incredibly tender texture. The third dish, "ChilePork belly bresse," was braised pork, and the fourth, "marinated ChilePork collar," consisted of a koji-marinated pork shoulder. For dessert, an 80% dark chocolate cake with yuzu jam was served, which was made with lard.
Renowned chef Ogawa shared his thoughts: "In our restaurant, using domestic ingredients is the rule. However, when I had the opportunity to cook with ChilePork, I could tell that they pigs were reared properly, as the meat did not have any off-odors and was at the same level of Japanese pork. The meat's texture is firm, and you can make use of both lean cuts and the fat, which is why I decided to use it for our dishes."
The event's atmosphere was enriched by the tasting and the exchange between attendees. Ayako Narisawa, a famous Japanese food influencer, shared her opinion on social media: "Chile is surrounded by nature: the Atacama Desert to the north, Antarctica to the south, the Pacific Ocean to the west, and the Andes Mountains to the east. It has a lower risk of disease spreading than other countries and a lower risk of outbreaks. I was also impressed by their advanced approach to environmental management, as organic pig waste is used to make organic fertilizer while producing energy in the process. I haven't found much ChilePork in supermarkets or elsewhere, but even expert chefs praise its taste. It was quite an interesting experience."
There is no doubt that the master class helped strengthen commercial and cultural links between Chile and Japan, showcasing Chilean pork's excellence.
Learn more about the master class by checking out the event photo gallery https://flic.kr/s/aHBqjAYjBB